top40-charts.com
http://top40-charts.com/news.php?nid=144361
Bluesman Ray Cashman Returns To His Roots In Southeast Texas

Video news

New York, NY (Top40 Charts)

It all came together rather unexpectedly back when he was ten years old. He was at a friend's house and a guitar that was sitting in another room caught his eye. He asked if he could pick it up and something about holding that guitar seemed to fit rather well. There was a mirror in the room and he looked into it while holding that guitar. Somehow it just felt like it was meant to be and that was the beginning. Next Ray would take in the blues from some real down home bluesmen and that was the icing on the cake - the young man was hooked. Years later while looking back at those formative years Ray never would have imagined that armed with just the blues in his veins that he would go on to share his love of the guitar and the blues with people all over the U.S. and Europe. From Spain to Belgium to Italy and on to the Netherlands Ray had been sharing what's inside him naturally with folks across the big pond. Then he returned to the states and set up camp in Austin and then on to Nashville where the folks at BMI signed him up so he could license his music to the Discovery Channel. Austin had been great but the lady he was in love with said Nashville was calling her and the thought of moving to Nashville Tennessee was more than a little intriguing to this

Texas

bluesman. Once he arrived in Nashville he was glad to be there. However, as time moved forward the notion of returning to Southeast

Texas

grew deeper in his heart. It was as if something was pulling him to return to the lifestyle he grew up with, the desire to return was just too much to resist. Now he's back in Montgomery

Texas

and even though performing on the stages in New York City, Los Angeles, Seattle, Austin at SXSW, as well as a number of other cities which was a tremendous experience the man has now settled back in where it all began. He's turned out six albums over the years and once he arrived back home there was one more working its way to the surface. The muse he needed he found right in his own backyard. This time around the album will be a blues rock release which Ray will title as "Houston Electric". It's scheduled to be released in the June time period after producer engineer Gary Belin buttons up the production side of things. Ray describes his upcoming album this way, "Best one I've ever done, most rounded one and even more rocking." Which is not too surprising when you learn that his top musical influences over time include The Rolling Stones, Howlin' Wolf, and the great songwriter Townes Van Zandt.

Ray Cashman is an interesting musical gumbo of a person as the man fits into the Americana roots scene as well as in both the blues and rock genres. Quite interesting actually. His sound is solid and his lyrics hit home. Two things you can tell about the man right out of the gate is that his heart is in his music and he's passionate about sharing the blues with all sorts of folks. After all that's how he found it and how his love affair with roots music began so many years ago. It hasn't stopped since, his upcoming release is probably his best.....

Interview
RAY CASHMAN





Du blues, au folk, en abordant les rivages du bluegrass, du rock, du cajun et de la country il varie les genres avec une égale maestria.

Blues Again : D'où viens-tu Ray ?
Ray Cashman : J'ai grandi principalement à Conroe au Texas. J'ai vécu à Houston jusqu'à mes 20 ans et à Austin dans ma trentaine. Je suis récemment revenu à Montgomery au Texas après avoir vécu 10 ans à Nashville, Tennessee.

Sur quels types de guitares joues-tu ? As-tu une marque préférée ?
Je joue sur une un Trilion National, une Martin D-28 et une Gibson ES 125. J'aime ces trois ces marques.

Y a-t-il un musicien, un chanteur, un groupe qui t'a particulièrement impressionné ?
J'ai grandi en écoutant les Stones, Hendrix et Led Zeppelin. J'ai été vraiment influencé par Willie Nelson, Merle Haggard et Townes VanZandt ainsi que par d'autres chanteurs, auteurs-compositeurs texans tels que Guy Clark et Steve Earle. Quand je me suis mis au blues, ça venait du Texas avec Lightning Hopkins et Mance Lipscomb, Stevie Ray Vaughn, Johnny Winter et les Fabulous Thunderbirds.

Si tu devais nommer 3 ou 4 musiciens comme références principales, quels seraient-ils ?
Townes VanZandt, Chris Whitley, Lightning Hopkins et Keith Richards.

Quel genre de musique écoutais-tu quand tu étais un jeune ?
Principalement du rock.

Te souviens-tu du premier blues ou rock entendu ?
J'ai acheté une cassette Jimi Hendrix quand j'avais 10 ans. Mon père détestait ça. J'avais grandi au son de la country classique jusque-là.

Comment définirais-tu ton style ?
Chanteur/compositeur, blues man.

Combien de concerts fais-tu dans une année ?
J'avais l'habitude de jouer environ 150 concerts par an, mais j'ai réduit drastiquement ces deux dernières années. Je privilégie maintenant la qualité à la quantité.

En novembre dernier, tu as donné quelques concerts près de Toulon avec Buck Langlois avant de te rendre en Italie. Comment était-ce ?
J'ai passé un super moment avec Buck, les concerts étaient super et le public était très enthousiaste. Buck est un super musicien et une merveilleuse personne. Je le considère comme un ami très proche.

Sens-tu une différence entre un public américain et européen ?
Très certainement. Aux Etats-Unis, dans la plupart des endroits on ne se soucie pas du blues. Il faut jouer dans des coins comme Clarksdale, Mississippi, et les festivals de blues pour ressentir une certaine appréciation.



Quelques mots sur ton dernier album Slow Drag…
Les pistes de base ont été enregistrées à Seattle. Le label Knick Knack Records est basé là-bas. Tous les mixages, mastering, overdubs et réglages ont été faits à Nashville, ainsi que l'enregistrement des titres 'Fame' et 'Bleed'.

Quelles sont tes sources d'inspiration pour l'écriture et la composition ?
Je n'ai pas de méthode. Quand la chanson vient à moi, je l'écris et je la joue plusieurs fois jusqu'à ce que ça sonne bien et achevé. Tout peut m'inspirer mais cela peut prendre des mois ou moins d'une heure pour terminer une chanson.



Y a-t-il un objectif que tu aimerais atteindre avec ta musique ?
Continuer à me rendre moi et d'autres gens heureux grâce à ma musique.

Quels genres de musiques aimes-tu écouter quand tu es seul ?
Celles qui m'ont influencé.

En dehors de la musique, quels sont tes passe-temps ?
La pêche et la cuisine raffinée.

Quels sont tes projets pour les prochains mois ?
Trouver des dates pour une tournée d'été en Europe. Principalement en France et en Italie.

En tant que musicien, quel serait ton rêve le plus fou ?
Ouvrir pour les Rolling Stones.

Quel est l'endroit où tu aimes te retrouver ?
C'est difficile à répondre. J'aime le grondement des grandes villes telles que New York, Paris et Rome mais j'aime aussi la tranquillité de la pêche dans les bois ou le long de la baie de Galveston (située au sud-est de Houston sur le golfe du Mexique : NDLR).

Gilles Blampain – novembre 2017
CD REVIEWs:
RAY CASHMAN
SLOW DRAG
Knick Knack Records
Armed with a national steel guitar, stomp box and fender amp, Ray Cashman the blues singer song-writer normally performs solo. With years of experience touring and playing music in the United States and around Europe, Ray Cashman's music reflects the inspirations of southern gothic literature and a blues gumbo repertoire that conjures up the ghosts of the Mississippi delta. Growing up outside Conroe, Texas. Listening to older black men play guitar, sing and drink, Cashman lives the experiences in his music. "They would sell us BBQ sandwiches and Budweiser beer, we would sit around and listen to them play music and tell stories." Now living in Nashville 'A gumbo troubadour' Cashman's mastery of the Southern Cajun and blues styles are highlighted on his sixth album Slow Drag. Released on Knick Knack records, Having the launch party on Cashman's own home porch, where Fame the opening track would not have been out of place with its relaxed stomp box and guitar. Along with Bleed the only two solo tracks on the recording. Spicing things up with backing from the rhythm section of blues-doom band Gravelroad, Joe Johnson bass and Marty Reinser drums on several of the tracks, The piercing slide guitar work of Nashville's Mark Robinson and the blues harmonica of Bob Bogdel. Some Delta blues With Nana's Diner About a living angel "she walks down the aisle like 12 bar blues" and the gothic Dead Man's Cadillac. Taking the tempo up with a 12-bar blues groove on She's Just A Girl "she's much too young to sing the blues." Baby has some understated harmonica playing. Thank God I Have You brings in some subtle slide guitar. The rhythm section is back with the driving Where The Blues Was Born before the heartbreak of lost love on Full Moon Over Orleans with its haunting slide guitar. changing track with the blues gospel of Rise Again. There are some finely crafted songs on this album with enough variation in style and tempo to keep it fresh interesting and enjoyable.
Il Blues
RAY CASHMAN Slow Drag Knick Knack 0028 (USA) -2016- Smorza i toni di un'elettricità da juke joint, Ray Cashman, per regalarci al suo sesto disco un lavoro da undici tracce orientate all'acustico, spontanee come se fossero suonate nella veranda sottocasa, il classico porticato sul retro di qualche baracca in Mississippi, come potrebbe dirsi dello stile downhome che ci ripropone, anziché i contorni di uno studiolo su a Nord - Ovest, nientemeno che a Seattle, dove vengono registrate invece le tracce base di questo "Slow Drag". Sembra davvero una globalizzazione del blues per Mr. Ray (certo ormai non solo per lui) ma se il suo stile pare non essersi mai allontanato da casa, l'album è stato inciso piuttosto al Ground Control d e l l a c a p i t a l e d e l grunge...mentre in realtà il nostro vive attualmente a Nashville, Tennessee, capitale del country! Un eterno girovagare che nulla toglie alla magistrale assimilazione di un'identità musicale che pure gli è propria, mescolando le proprie radici con quelle dell'idioma che più gli piace, delineandosi allora originario di quel luogo ideale che fu anche del suo ormai vecchio "Texassippi" (2007). Ai tempi c'era il patrocino di Jimbo Mathus, stavolta invece la produzione è autonoma, comunque mai superficiale e pur nel procedimento a togliere, articolata nel lavoro integrato da una band al completo: altra chitarra (Mark Robinson), armonica (Bob Bogdal), basso (Joe Johnson), batteria (Marty Reinsel) e l'immancabile battito del piede a scandire i silenzi, le pause musicali e i cenni ipnotici ad evocare i flashback in bianco e nero del canzoniere popolare americano. E all'Anthology of American Folk Music come a vecchie registrazioni itineranti in un Sud lontano fa pensare la terza "Dead Man's Cadillac", introdotta dalle aperture che molto spazio lasciano a meditazioni strumentali di contorno al cantato ("Fame", "Mana's Diner"). Prima che la "stoniana" "She's Just A Girl" infili davvero la spina, e la corrente inizi a circolare accendendo gli spiriti assopiti dalle più diffuse atmosfere sospese, a fare il paio con "Where The Blues Was Born" che è forse la migliore a scendere là dove tutto è cominciato. Ci aspettavamo fosse tutto così e qualche traccia acustica nel mezzo, invece la sola traccia che resta nella medesima vena artistica, quella elettrica, è l'ultima, che è poi "She's Just A Girl Reprise". Ma in fin dei conti poi un artista fa quello che gli pare, e se Cashman sfodera di più qui l'altra faccia del downhome, lo fa bene: potremmo quasi chiamarlo bluesman, anziché nuovo bravo testimone del suono Fat Possum del tempo che fu. Matteo Fratti
Singer-songwriter / gitarist Ray Cashman is al sinds 2001 "a blues singing troubadour". Hij zingt over zijn reizen, over wat hij leest en over het leven met alle moeilijkheden en uitdagingen. Cashman groeide op in de omgeving van Conroe, TX. Hij luisterde er vaak naar oudere zwarte muzikanten, die bij de BBQ doorleefde liedjes zongen en broodjes en (Budweiser?) bier verkochten. Vóór zijn muzikale carrière was Cashman kort in het leger, werkte hij als timmerman, truck chauffeur, verkoper, barman en deed hij nog "twaalf stielen en...". Momenteel woont Cashman met vrouw en zoon in Nolensville, TN.

Op de eerste plaats vindt Cashman dat hij een songwriter is, daarna gitarist en pas dan zanger. Cashman debuteerde in 2005 met 'Black And Blues' en bracht ondertussen al zes studio albums uit. Cashman tourde al uitgebreid in Noord Amerika en Europa. In 2015 was hij opnieuw in België en was hij o.a. te gast bij onze roots vrienden in het Loodscafé in Aarschot. 'Desolation' ("troosteloosheid / verwoesting") [2015] was het laatste album dat van Cashman op mijn bureel belandde. Het was (zo schreef hij zelf) "het meest gestripte album, dat hij uitbracht sinds zijn debuut in 2005".

Het laatste album van Cashman heet 'Slow Drag' [2016]. Als je gaat zoeken naar de betekenis van 'Slow Drag', dan zijn er twee referenties. Een: de 'slow drag dance': een populaire Amerikaanse dans. Twee: het 'slow drag album': een jazz album van trompettiste Donald Byrd uit 1968. De Slow drag (dance), waar hier naar verwezen wordt is een Amerikaans ragtime jazz genre en de dans waarvoor de muziek geschreven werd, kortweg de "drag". De slow drag dance maakt deel uit van blues dancing. Ragtime (rag-time of rag time) muziek was erg populair tussen 1895 en 1918 en wordt gekenmerkt door zijn typisch "ragged", onverwacht, gebroken ritme.

Ray Cashman's 'Slow Drag' is een album met elf originals, dat hij opnam samen met gitarist Mark Robinson, harpist Bob Bogda, drummer Marty Reinsel en bassist Joe Johnson. 'Slow Drag' is opnieuw een album met de typische, stemmige Cashman mix van blues, cajun en swamp.

Met "Fame" begint Cashman aan zijn trip en vertelt hij ons een van zijn verhalen. Wat songwriting verder betekent hoor je in "Nana's Diner", "Baby" en "Thank God I Have You". In "Dead Man's Cadillac" is er een hoofdrol uitgezet voor de bluesharp van Bob Bogdal en, met "She's Just A Girl" kies je voor een uptempo shuffle. "Where the Blues Was Born" is behept met slides en, in het weemoedige "Full Moon Over Orleans", "Bleed" of in de afsluiter "She's Just A Girl (Reprise)" doet Cashman waar hij goed in is.

Gitarist Ray Cashman kan je omschrijven als een singer-songwriter "zonder franjes", met een intrigerende stem en met vele verhalen. Met 'Slow Drag' leidt hij ons opnieuw rond in zijn kleine wereld, waar je de voodoo van de Mississippi delta ontmoet en laat hij ons voelen hoe fragiel en subtiel alles kan zijn. Als je de kans krijgt om Ray Cashman live mee te maken, mis die dan niet, want Cashman doet waar hij goed in is, niet meer en niet minder…

Check voor alle tourdata de website van de artiest/band en/of Rootstime !

Eric Schuurmans

Album track list:
1"Fame" - 2"Nana's Diner" - 3"Dead Man's Cadillac" - 4"She's Just A Girl" - 5"Baby" - 6"Thank God I Have You" - 7"Where the Blues Was Born" - 8"Full Moon Over Orleans" - 9"Rise Again" - 10"Bleed" - 11"She's Just A Girl Reprise" – Music / Lyrics by Ray L Cashman ℗ 2016 – Produced by Ray Cashman

Album Line-up:
Ray Cashman: vocals, guitar, foot stomp
Mark Robinson: guitar
Bob Bogda: harmonica
Marty Reinsel: drums
Joe Johnson: bass

Discography Ray Cashman:
Slow Drag [2016] | Desolation [2015] | Rough & Tumble South [2012] | Texassippi Stomp feat. Grant "Gabby" Brown (harmonica) & Jimbo Mathus (different instruments) [2007] | Black And Blues [2005]
Ray Cashman – Slow Drag
Format: CD / Label: Knick Knack Records
Releasedatum: 15 November 2016
Tekst: Rick Kanselaar
'Slow Drag' is de titel van het laatste album van Ray Cashman, een man die zichzelf betitelt als Gumbo troubadour. Zijn muziek is een mix van pure blues, swamp en cajun. Best bestemd om gespeeld te worden in een stoffige dorpje, zittend in een schommelstoel voor de deur van een houten huis ergens heel diep in het zuiden van Mississippi. En laat Ray Cashman dat nu net gedaan hebben op zijn eigen veranda met de release van dit album.
Cashman haalt de inspiratie voor zijn songteksten en muziek uit eigen ervaringen, tijdens de reizen die hij maakt maar ook uit de vroege Amerikaanse literatuur. Dit levert op zijn zesde volledige album eerlijke en gepassioneerde muziek op. Oorspronkelijk komend uit oostelijk Texas maar tegenwoordig wonend in de heuvels rond Nashville maakt Cashman muziek met gevoel. Ray Cashman toert intensief door de States maar doet hij ook op regelmatige basis Europa aan.
De stemming op de cd is kalm en ingetogen en vormt een kabbelend geheel. Ray Cashman brengt subtiele arrangementen en nergens gebeurt het overdadig. Subtiliteit blijft een belangrijk ingrediënt. Op 'Slow Drag' gaat het vooral om de ambacht van het liedjes schrijven getuige de nummers Fame, Nana's Diner en Baby. Tegelijkertijd zorgt dit er wel voor dat de plaat nergens echt spannend wordt. Echter Cashman doet waar hij goed in is, niet meer en niet minder, luister maar eens naar Full Moon over Orleans en She's Just a Girl (reprise). Cashman levert met 'Slow Drag' een degelijke bluesplaat zonder franjes af.
the fifth release in the artist's catalog, and his most distinct to date. It was released independently on Cashman's own D Bomb Records. Rough and Tumble South, is a slight departure from his earlier works in the fact that the songs were tracked with a full band. The lineup of musicians on this album helped bring a new dimension to Cashman's music, giving it a more full sound yet not losing the passion that was captured on his previous albums. The latest project was recorded at The Bomb Shelter in East Nashville, which was a new recording location for Cashman, differing from his past two albums recorded in MS.



The subject matter of the album varies from song to song. Food is huge theme on this album. Simple living, love and happiness and the struggles that come with it are also important to the album's lyrical content. Listeners can tell how growing up in a small town has influenced Ray Cashman. "I have written 12 songs that reflect the region of America I have lived and respected; the South. These are songs about love, food, music, murder, illicit substances and the yearning to leave small town America," says Cashman while reflecting on his songwriting.



Ray Cashman's gritty baritone vocals stand out as well his bluesy guitar riffs. Banjos, horns and fiddles and some washboard thrown in for texture help give the album a true southern feel that anyone can move to. Rough and Tumble South is definitely an album to take notice of and is one that both long-time fans and newcomers to Cashman's catalog can appreciate.
Raw and rough in the very best uses of the words; it is primal and in a sense savage, coarse, unpolished, and yet sincere and honest. The music is a melting pot of swamp, Cajun, psychedelic, Preservation Hall jazz, some punk in there too for good measure. It is an interesting hodge-podge of music and the band behind Ray Cashman fits right in there. If you are looking for the polish and smoothness of a Lyle Lovett or Yvette Landry or even Steve Riley - no. This is the un-adulterated mash up of a man/band that plays with passion and feeling and honesty and subtly be damned.

This is Cashman's fifth album and it is filled with eleven songs that reflect on theme's important to him, and all were written by him. These are songs of the hardscrabble South; were there was sometimes not enough food, or love that was askew in one way or another, and always the illicit substances to talk about. It is also the first full disc he did with a band. He plays guitars and banjo as well as handling the vocals, Davis Coen lays down guitar on two tracks, Grace Askew contributes vocals on two tracks, Diego Vasquez tambourine on a track, John Estes bass and organ on a single track, and then Ollie Oshea, fiddle, and Adam Verone drums and washboard are constant throughout the disc. It is rural and it is unrefined and natural, and it is definitely a disc that should not be missed because in its unrefined rawness is its power.

Track List:

The Food Song
The Simple Life
Nobody But You
Feeling No Pain
Mudbugs
Moving Fast

Evangeline
Skin
Holcolm Roll
Devil & I
Turn the Key

Edited by: David N. Pyles
(dnpyles@acousticmusic.com)
Ray Cashman's fifth album Rough & Tumble South is a full-band journey into blistering juke joint music chock full of banjos, fiddles and grit, best played when cranked up to 11.
Raised outside of Conroe, Texas, Cashman looked up to the gifted older black musicians who he grew up around. He would listen to them play music and tell stories, and the influences of that are certainly everywhere on this superb album. Rough & Tumble South focuses on food, experiences traveling on the road, and inspiration from Southern Gothic literature. Cashman has no shortage of life experience to draw upon, having served in the army, worked as a carpenter and done numerous other career moves such as, driving a fork lift, bar tending, selling cars, plumbing, roofing and being a stay-at-home dad.
This album was recorded at the Bomb Shelter studio in East Nashville and released on Cashman's independent label D Bomb Records. Bluesy guitar riffs, Cashman's tough baritone vocals, strong drumming and washboards from band player Adam Verone and backup vocals from Grace Askew, as well as the trombone of bandmate Diego Vasquez, guitar of Davis Coen, expert fiddling of Ollie Oshea and bass and organ know-how of John Estes make this full-band recording a full musical ride.
Cashman reminds me of another excellent blues and jug band who were one of my favourites growing up, called the Tarbox Ramblers from Massachusetts (on Rounder Records). Both artists achieve a high-energy raw hillbilly roots sound that really captures the ear and gets the toe tapping.
Standout tracks include the soulful meditation on enjoying life and its nature, with the old-time fidding of Oshea. "a little slowing down/couldn't cause us any harm," sings Cashman, who wrote all the songs on the album.
Track "Feeling No Pain," stems from the best of blues traditions and is reminiscent of the 1930s Mississippi Sheiks super hit "Sitting on Top of the World." Catchy, fun bluesy tracks like "Mudbugs," "Holcomb Roll," and "the Food Song," are matched by songs with melodic old-time banjo riffs and underlying darkness such as "Evangeline," where the song's narrator tells a girl in trouble that he will save her from people trying to catch and hang her as the banjo plucks madly in the background, emphasizing the situation they are in.
"Skin," and "the Devil and I" also hew down to the core of the human condition as blues does at its best, but they do so with determination and grit, world-weariness tempered by a zest for standing up to your demons. "From the beginning of time that battle he has waged," Cashman growls with the full-throttle guitars and drums highlighting the struggle. Then there are the adrenaline-kickers like "Moving Fast," and "Turn the Key," that describe the fast-moving adventure and ups-and-downs of life with gusto and driving energy. "I'm movin' fast/ and I'm leavin' slow," Cashman sings, drawing out the end as the band fades.
Cashman's 2007 album Texasippi Stomp was on the nomination
ballot for best traditional blues album at the 2007 Grammy Awards, and Rough & Tumble South may not do too shabby itself. It certainly deserves any accolades it receives, and the more people that take a listen the more these will roll in. Rough & Tumble South is a genuine diamond in the blues world. This is a strong, strong recording. Listeners are encouraged to visit Cashman's website and consider picking up a copy of Rough & Tumble South for themselves. Highly recommended.
9/10
CHRONIQUES
CASHMAN, Ray - Rough & tumble south
/ paru le 13-03-2013 /
Le moins que l'on puisse dire, c'est que Ray Cashman est allé chercher le blues authentique là où il gisait encore. Il a formé son esprit et son corps dans l'espoir unique d'un rendez-vous ultime avec le blues, au point de fusionner avec son genre musical de prédilection.

Première qualité de Ray Cashman : il vient du Texas. Bon, ça, le Texas, pour un aspirant bluesman. Le blues texan, de ZZ Top à Johnny Winter en passant par Stevie Ray Vaughan, Lightnin' Hopkins ou T-Bone Walker est une école de haute volée qui a engendré une des plus nobles castes de la profession. Cashman serait né au Groenland ou dans le désert de Gobi, son avenir de bluesman aurait été sérieusement compromis. Deuxième qualité du bonhomme : il est sportif. Footballeur, baseballeur, et même une expérience dans la lutte et huit années de rugby. Voilà qui forge le caractère. Quand une mêlée d'avant-centre ou d'ailiers flirtant avec le quintal vous est passée dessus, on voit les choses autrement, en mode combat pour la survie, terreau idéal pour la philosophie blues. Et le combat, Cashman connaît aussi, rapport à sa troisième qualité : trois ans dans l'armée US, dont une à la frontière ultra-sensible entre les deux Corées. De quoi affûter sa pensée à l'idée que tout pourrait voler un jour en fumée par la grâce des petits joujoux nucléaires que les puissants abritent dans leurs sous-sols. Et de se remettre une couche de blues entre les oreilles.

Et on n'insistera pas sur la profession régulière du bonhomme, la menuiserie, la charpente, la construction de maisons, soit la satisfaction de travailler de ses mains et de suer sur l'établi, encore de quoi se frotter au blues. Mais ce qui a sans doute formé l'authentique attitude blues de Ray Cashman, c'est sa jeunesse passée à écouter les vieux bluesmen noirs dégoiser dans les juke joints, à capter le souffle du blues dans le microsillon des disques de Leadbelly, Son House, Muddy Waters, Bob Dylan, Willie Nelson ou Johnny Cash. Ray Cashman est même adoubé par le grand Billy Gibbons de ZZ Top, qui bavarde un jour avec lui à l'issue d'un concert d'un de ses premiers groupes (les Tequila Cowboys) et lui enseigne quelques trucs à la guitare, comme un vieil escroc transmet son savoir à des marlous en herbe.

Cashman, profil abrupt de rude ouvrier du Sud, formé à tous les métiers, généreux et simple, mène sa petite carrière de bluesman en dehors des grands chemins commerciaux où règnent l'esbroufe et l'argent. Il signe ici son cinquième album, un "Rough & tumble south" tout simplement suprême en termes d'authenticité et de sensibilité blues. Avec ses camarades Adam Verone (batterie), Ollie Oshen (violon) et John Estes (basse), Ray Cashman a mis au point onze titres navigant entre blues velouté ("Food song") ou musculeux ("Nobody but you"), country brinquebalante ("Simple life") ou tonique ("Mudbugs"). Quelques cuivres soulignent le côté bastringue de "Feeling no pain", un orgue s'insinue dans "Moving fast" pour y donner un petit aspect soul du meilleur goût. "Evangeline" est une plongée au cœur de la tradition des blues shouters qui hantaient les rives du Mississippi dans les années 1920. Au contraire, "Skin" semble plutôt reluquer du côté du heavy rock, avec sa guitare clinquante et sa rythmique alourdie. Le disque se termine par le petit instrumental "Holcomb roll", prélude au profond et grave "Devil and I" et au plus virevoltant "Turn the key".

Chaque morceau de cet album a sa personnalité, est traversé par une approche fine et subtile, ce qui n'ôte en rien l'aspect rustique du blues et de la country de Ray Cashman, qui se pose ici en orfèvre, un peu à la manière de Duke Robillard. Le moteur de cette Cadillac qu'est "Rough & tumble south" est réglé aux petits oignons et l'engin vous emmènera dans dommages très loin sur la route du blues et de l'Amérique profonde. À ne pas manquer.


François Becquart
Pays: US
D Bomb Records
Sortie: 2013/02/15
Lu: 117
Ray Cashman « Rough & Tumble South »
Ray Cashman – Rough & Tumble South – D Bomb Records
Ray Cashman n'est pas une découverte (son troisième album avec Jimbo Mathus « Texassippi Stomp" s'était vu nominé en 2007 dans la catégorie album blues traditionnel aux Grammy Awards !) Mais, pour la première fois son dernier album est disponible et distribué en France. Ce Sud confus et joyeux que nous administre Cashman dans son cinquième opus est à la hauteur du personnage.
Vivant actuellement au Tennessee, Ray Cashman a pas mal bourlingué dans sa vie entre sportif de haut niveau, 3 ans d'armée, des tas de boulots dont charpentier à l'heure actuelle et une passion affichée dès son enfance pour la musique que pratiquaient de vieux bluesmen noirs que Cashman ne cessait de fréquenter dans son Texas natal.
Tout ceci permet de mieux comprendre les diverses influences que l'on retrouve dans cet album. D'entrée avec le très stonien (période Exile on…) Food Song, le mariage voix guitare n'est pas sans nous ramener dans les moiteurs des compos d'un Link Wray par exemple. Mais d'autres influences sudistes sont présentes : americana (Turn the key), blues rugueux (Devil & I, Nobody but You, Skin) que ne renieraient pas des Kenny Brown ou autres participants aux différents Hill Country Picnic tenus ces dernières années, country (Simple Life, Mudbugs) où l'on appréciera la participation d'Ollie Oshea au fiddle.
Soutenu par John Estes (qui n'a rien d'un endormi à la basse et au clavier sur Moving Fast) et Adam Verone (à la batterie que nous avions pu voir à la suite du précédent Muddy Roots Europe, à Paris en juin 2012) Cashman peut ainsi tricoter à l'aise aussi bien à la slide (Hollcomb Roll) qu'au banjo.

Photo:Miss Béa
A l'image d'autres artistes actuels du Sud profond (N.M.A. et autres filiations des grands noms du Hill Country), Ray Cashman mérite d'être enfin découvert par un public plus large. Rough & Tumble South après Texassippi Stomp (2007) et Snake Feast (2010) élargit les diverses approches de Cashman et devrait contribuer à mieux le faire connaître.
Le digipack est à l'image du contenu. Véritable petit patchwork photo de ce sud réel et mystifié où la photo intérieure est révélatrice. L'on y voit écrit à côté d'un diable rouge tenant une faux, sur une affiche plantée en plein champ probablement à l'entrée d'un patelin « Allez à l'église ou le Diable viendra vous prendre ! "
Ah oui ! La distribution de cet album est assurée par Nayati Dreams
Serge Sabatié
Tuesday, February 12, 2013
D Bomb Records artist - Ray Cashman - Rough and Tumble South - New Release Review
I just received the newest release, Rough and Tumble South, by Ray Cashman. The release opens with Food Song, a great juke track with a strong rhythm and back beat. This is simple, raw and fun with Cashman on vocal and guitar, Davis Coen on guitar, Grace Askew on backing vocal John Estes on bass and Adam Verone on drums. A more laid back country style track, Simple Life, opens with Ollie Oshen on fiddle and the song is delivered in it's simplest form describing the merits of slowing down. Nobody But You has a definite swamp rock bottom with a great groove. A droning guitar part with a more melodic bass gives Cashman's raw vocals a perfect stage for breathing. I really like this track... let's call it power swamp. Feeling No Pain has a distinct dixieland flavor with the addition of a little banjo by Cashman and some real cool trombone work from Diego Vasquez. Mudbugs is a bit more uptempo and a blend between Appalachian and Cajun style with and rural instrumentation specifically plucked banjo and rural style fiddling. Moving Fast opens with a really nice distorted guitar riff and then develops into more of a countrified rock track with a heavy organ on the bottom. Evangeline is a real smooth bluegrass track with open 5 string banjo picking and acoustic guitar strumming accompanying Cashman on vocals. Another cool track. Skin opens with some really cool distorted guitar work developing into a simple country style rock track. Holcomb Roll opens with light brush work on snare drum and acoustic slide guitar for a really simple rural sound. This is another of my favorite tracks and a nice contrast to Devil and I, a heavier sounding track with raw guitars sound and fiddle played in more of an ethereal manner. There are some really cool riffs here going where you wouldn't ordinarily expect giving the track more interest. Turn The Key completes the set in a regular bluegrass fashion. This is a nice simple track with fiddle, guitar and vocal. This is a very enjoyable rural sounding release without a lot of the pretense often built into a super stud recording. Nice job!
Ray Cashman, Texan de toujours et fol amoureux de ses racines américaines sudistes nous lègue son patrimoine culturel et musical sur son nouvel et cinquième album « Rough & Tumble South ».
Sur onze titres aux racines terreuses où la guitare est en balade, le blues (Nobody But You, Skin), l'americana (Turn The Key, Feeling No Pain) et la country (Mudbugs) nous accompagnent lors de ce voyage dépaysant et sauvage.
On y parcourt un album au naturel, empruntant les sentiers marécageux comme le chemin des festivals locaux et ceux des grands axes bitumés. C'est dans un vieux van métallique, corrodé par le mauvais temps, le soleil lourd et les kilomètres avalés qu'on s'installe. Place passager bien sûr, pour que ce bon Ray nous parle de la grande expérience de sa vie avec ses irrégularités de terrain comme ses longues lignes droites sans horizon.
« Rough & Tumble South » s'apprécie comme un documentaire sur un pays dont on ignore tout des coutumes et des traditions, comme un folklore qui s'ouvre à nos oreilles et à nos yeux, comme un voyage dans un ailleurs pour lequel nous n'avons que des représentations générales et venant chambouler toutes nos perceptions.
Ray Cashman assaisonne un bouillon de culture américaine savoureux et authentique où le guitariste slide sur ses cordes en chantant sa solitude comme ses rencontres.
Même si nous ne sommes que de passage sur cet album, à l'écoute de ce disque, on ressort riche de s'être ouvert un peu davantage à cette autre culture, celle du blues rock américain, qui va droit à l'âme et aux tripes. Un beau dépaysement hors des sentiers battus.
L'album de Ray Cashman est disponible chez Nayati Dreams.
Ray Cashman
Rough and tumble south

Genre musical: Americana
Label : D BOMB RECORDS
Distributeur : NORMANDEEP BLUES

Le titre du CD Rough And Tumble South pourrait se traduire par le sud jovial ou le sud débridé, et cela reflète assez bien ce qu'on entend. En effet si Ray Cashman est texan il ne se limite pas aux ritournelles qui flottent dans l'air du côté de Houston ou de Dallas, mais il s'inspire largement du riche répertoire du grand sud qui va des Appalaches à la Louisiane en passant par le Tennessee le Mississippi ou l'Alabama. Il signe donc de remarquable façon 11 titres qui naviguent du blues, au folk, en abordant les rivages du bluegrass, du rock, du cajun et de la country. Le résultat est une vraie plongée dans ce que l'Amérique a de meilleur au niveau de son patrimoine musical. Interprète de haut niveau, il est tout à fait surprenant d'entendre comment le bonhomme excelle dans chacun des styles dont il s'empare. Seul à la guitare (avec de superbes slides), au banjo ou accompagné par une mandoline ou un fiddle ou encore par un trombone, Ray Cashman sait varier les genres et les tonalités d'une chanson à l'autre avec une égale maestria. Chanteur à la voix chaude et mâle, Cashman a gravé cette gourmandise sonore à Nashville. C'est tellement bon que le disque paraît vraiment trop court avec seulement 36 minutes.
Gilles Blampain
Rough & tumble south
(D Bomb Records – 2012)
Durée 36'10 – 11 Titres
http://www.raycashman.net
http://normandeepbluesrecords.blogspot.fr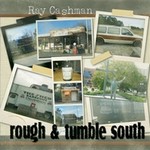 Pur produit du Sud des Etats Unis, Ray Cashman est un de ces solides Texans qui ont un vécu chargé avec quelques années passées au service de l'armée dont un an en Corée mais aussi beaucoup de sport dont huit années de rugby et pas mal d'heures passées à écouter de la country, du folk, du blues et du rock en compagnie de ses acolytes autour d'une bière … Devenu charpentier, cet ancien guitariste des Tequila Cowboys construit aujourd'hui des maisons traditionnelles mais n'en a pas pour autant renoncé à la musique, composant avec une certaine ingéniosité et s'accompagnant sur la centaine de morceaux sortis de sa plume à la guitare mais aussi au cigar box pour en arriver tranquillement à ce cinquième album personnel depuis 2001, le troisième, « Texassippi Stomp », sorti en 2007, s'étant d'ailleurs retrouvé en nomination aux Grammy Awards dans la catégorie meilleur album traditionnel.
Accompagné du batteur Adam Verone mais aussi d'Ollie Oshea au fiddle, Ray Cashman retrouve épisodiquement John Estes à la basse ou à l'orgue, Davis Coen aux guitares, Diego Vasquez au trombone ou Grace Askew au chant et nous entraîne dans un formidable voyage en direction des racines des musiques noires mais aussi blanches américaines, traversant avec la même sagesse et la même inspiration les bayous de Louisiane, les rivages boueux du Mississippi, les vastes étendues du Texas et les contreforts des Appalaches. Tantôt country, tantôt blues, parfois zydeco, cajun ou encore folk, « Rough & Tumble South » mélange avec beaucoup d'ingéniosité les très forts relents venus de chez Son house et Leadbelly à ceux puisés chez Johnny Cash et Bob Dylan, leur associant même à l'occasion des grappes d'influences piochées chez Muddy Waters ou RL Burnside et secouant énergiquement le tout pour que des pièces comme « Food Song », « Mudbugs », « Skin » ou « Devil & I » deviennent de véritables trésors façonnés à grand renfort de slide et de voix rocailleuses à souhait. Rugueuse et poussiéreuse à souhait, la musique de Ray Cashman est une véritable invitation à la découverte d'un style mais aussi et surtout d'un personnage que l'on espère croiser au plus vite dans nos salles de concerts. A bon entendeur !
rambles culture and art magazine
"Not for the faint of heart is Cashman, purveyor of full-frontal downhome blues, as subtle as a tornado funnel or an artillery blast.This is rude, raucous Mississippi juke-joint music, much less delta than hill country -- the sort of raw approach whose then-surviving (and some since-deceased) native practitioners (including T Model Ford, R.L. Burnside, Paul "Wine" Jones and Robert Belfour) the Oxford, Mississippi, label Fat Possum famously recorded and promoted. Cashman's uncompromising approach renders trivial, even absurd, conventional notions of "authenticity. Read more: http://www.myspace.com/raycashman#ixzz12LLG
"This is for fans of blues right up front. Ray Cashman (vocals, guitars) and Grant "Gabby" Brown (harmonica) together form the basis of the formidable, provocative blues duo Cashman. Their second album "Texassippi Stomp" could obtain no better title, it perfectly expresses the content of this album. It drags you into a stunning strip of raw Mississippi juke-joint music. Cashman are masters at bringing catchy, dead honest, enthusiastic blues. In ten of the eleven self-written songs are the sleeves rolled up, and Cashman is released against a power that the sweat from our speakers was splashing. A fantastic album that we can not recommend enough. "
top40-charts.com
http://top40-charts.com/news.php?nid=144361
Friday, April 03, 2009 Madison WI show review Having the Cashman duo in studio for the show with a sort of unplugged session was nothing like hearing that raucous Mississippi juke-joint music, live in a tunnel like bar room setting. Ray and Todd were making winds swirl and snakes get up and run….The rawness of these kinds of blues slid off the git-tar in a serpentine dance mingling with the dancing girls. We got a taste of some of the old and some brand new unreleased material as well as some traditional blues sounds including a kicking "In my Time of Dying", which was one of those songs you almost never want to hear end when in a live setting. I know the guys made a good impact on the scene and I look forward to seeing them back here in Madtown in July bending ears and stomping feet.
Blues & Co.
« La grande adorade du Tonton »